#followfriday: 4 Indigenous Tea/Coffee Businesses to Follow
By Holliston Logan
Recently, we launched a new Instagram series where our team shares recommendations of Indigenous businesses, artists, and organizations to follow. As per the #followfriday tradition, you can find new recommendations each Friday on our Instagram account. In addition to the brief introductions we provide through our social media posts, we wanted to share more about each recommendation, their story, and what about them inspires us. With this in mind, we will be accompanying each #followfriday feature with a blog post highlighting more about the recommendation and why you should check them out.
This week, we are featuring 4 Indigenous tea/coffee businesses. Grab a cup of your favourite tea or coffee, find a cozy seat, and take a moment to learn more about these Indigenous coffee and tea companies.  

Birch Bark Coffee Co., established in March 2018, was founded by Mark Marsolais-Nahwegahbow. Mark is Ojibwe and a member of the Whitefish River First Nation which is located on Birch Island, Ontario. One of the things we love about Birch Bark Coffee Co. is their focus on creating a positive community impact through their business. This social enterprise aspires to "make a difference, one coffee bag at at time", with partial proceeds of each purchase going toward the purchase of Belkraft water purification units which are then distributed to Indigenous families and communities without access to clean water. The right to water is recognized by the United Nations and entitles everyone to have access to safe, accessible, affordable, and sufficient water. Unfortunately, the reality of the situation is that there is an on-going and growing gap that exists between Indigenous and non-Indigenous communities on Turtle Island, and we recognize that the on-going water crisis is more complicated and runs deeper than the on-going boil water advisories many communities have been living with for years.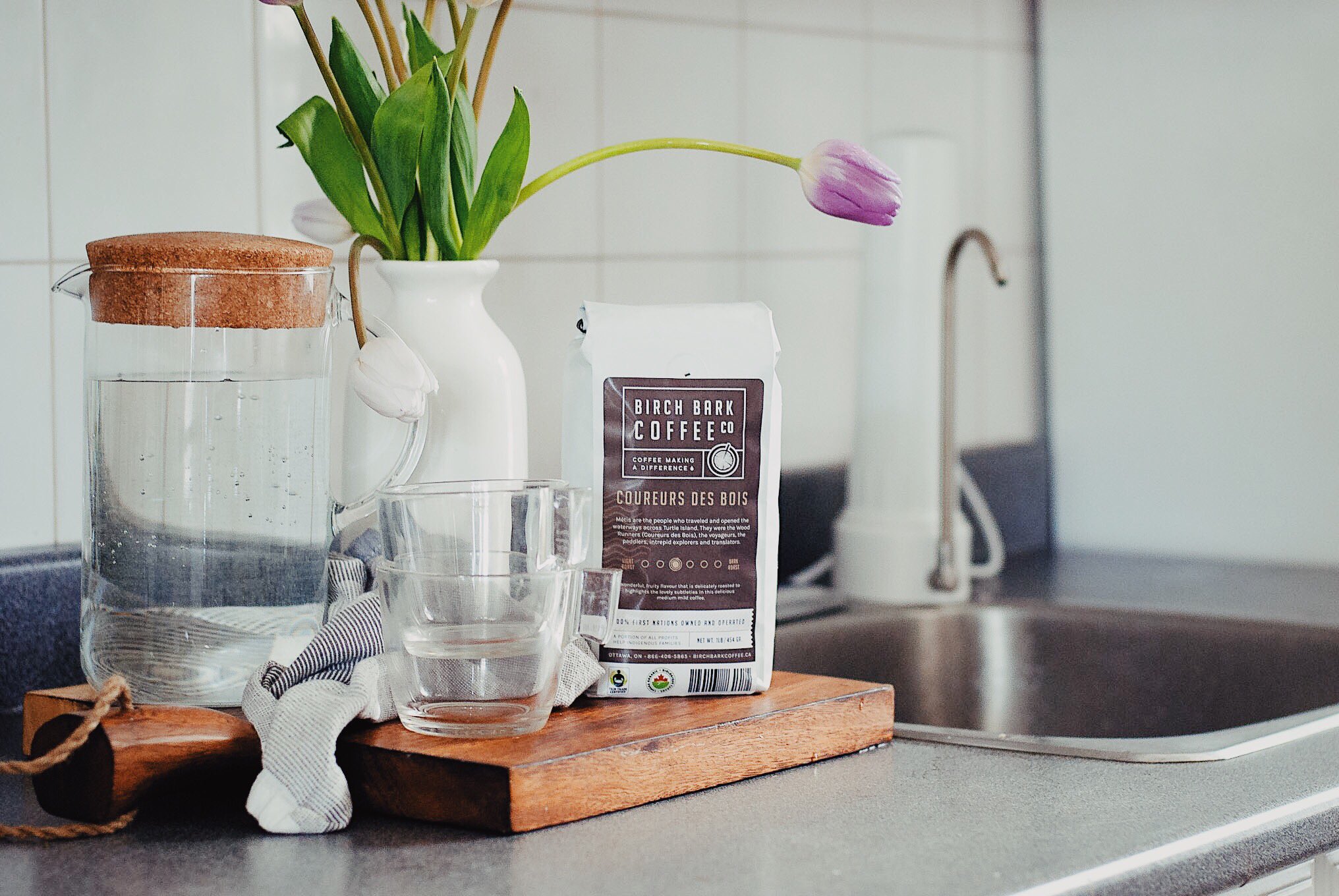 "Water is a fundamental right. I don't think anybody, whether we're First Nations or not, should go without water." - Mark Marsolais-Nahwegahbow
connect with Birch Bark Coffee Company
website | twitter | linkedin | facebook 

Spirit Bear Coffee Company, an Indigenous-owned and led organization, has been proudly roasting, packaging, and selling premium coffees since 2006. One thing we truly appreciate about this business is their focus on sustainability and respect for Mother Earth. Single-serve coffee pods have become quite popular in the last decade, however, the added convenience of quickly brewing a delicious solo cup of coffee resulted in large amounts of these pods ending up in landfills. It has been estimated that 
Canadians discard 2.8 million pods a day
. Recognizing the our role to care for Mother Earth and walk lightly on her, Spirit Bear Coffee Company launched their
100% compostable coffee pod
(which is also 100% Certified Fair Trade and 100% Certified Organic) in 2018. Not only does this product innovation allow you to be more conscientious of your environmental impact, but it does so without sacrificing the delicious taste and convenience of a single-brew cup. Spirit Bear has even added a philanthropic component to these pod purchases, and a
portion of proceeds are donated to environmental programs
, with the recipient program changing from month to month to ensure the donations are shared among a variety of organizations and initiatives.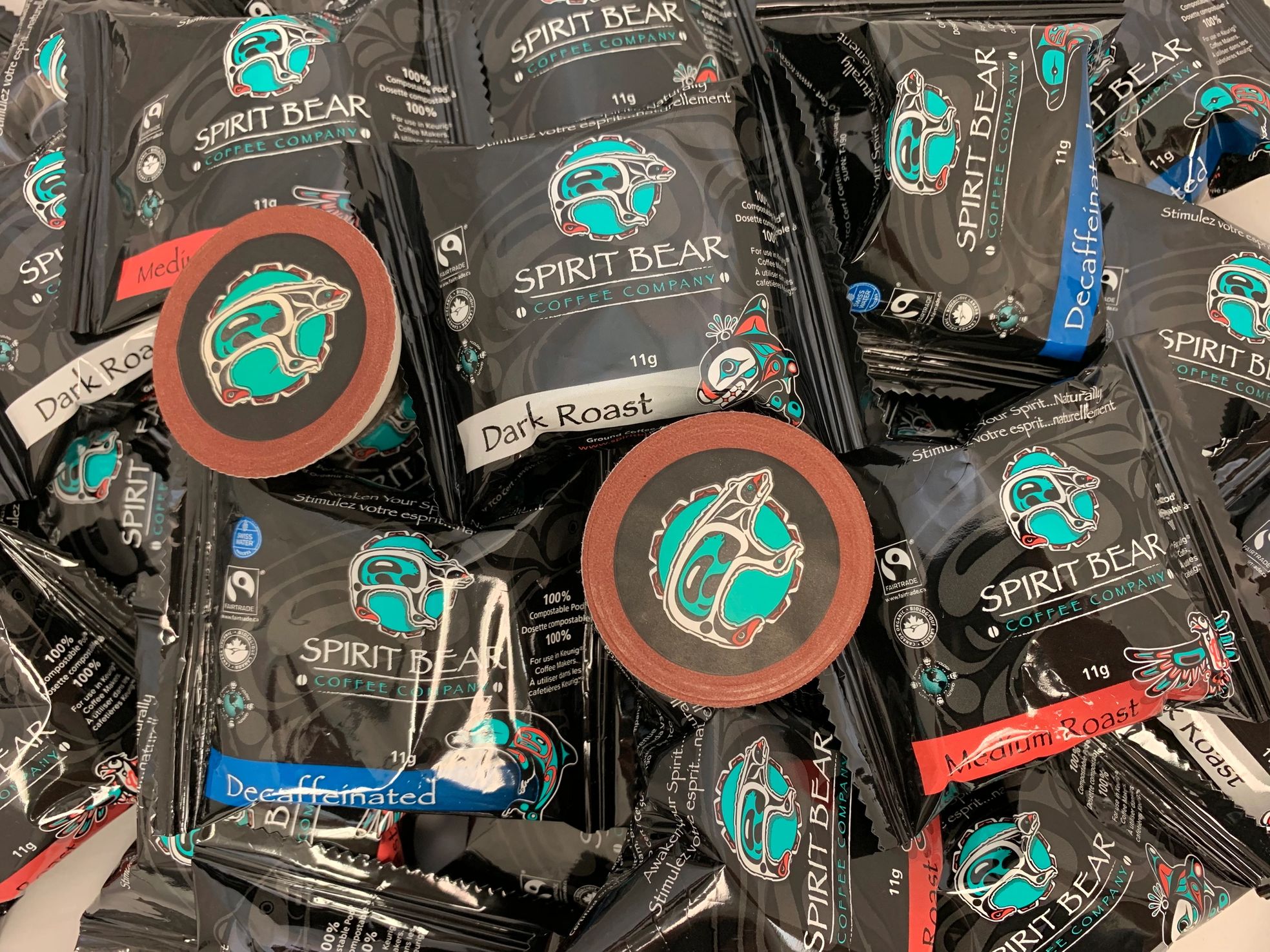 (image source)
Feeling the summer heat? Try out one of Spirit Bear's chilled coffee recipes - the perfect way to relax (and caffeinate) on a hot summer day.
connect with Spirit Bear Coffee Company
website | twitter | facebook | instagram
Based in Maskwacis, Alberta, Cree Coffee Co. is a certified organic, direct trade coffee company founded by Dylan Tootoosis in 2015. For many, the love of coffee comes later in life, but for Dylan, this love started at a young age when he snuck his first sip of coffee at the age of 11. Dylan's relationship with coffee is one of healing, and he thanks his love of coffee and lattes with helping him to get away from the vice of alcohol. "It's one of the one of the main reasons why I do what I do," said Tootoosis in a 2019 interview. "I suffered with a bottle for about 15 years… and what helped me out, helped me sober up, was coffee culture." One of the things we love about Dylan's approach to business is how he engages directly with Indigenous communities to share his products and passion. The powwow trail has become a primary method of sales and product awareness for Cree Coffee Co., and Dylan spends extensive time travelling on the powwow trail sharing his blends. 
"I would like to show my people organic coffee without any additives, preservatives, just all-natural clean coffee." - Dylan Tootoosis
connect with Cree Coffee Co.
 twitter | facebook | instagram
Do you prefer a hot cup of tea over coffee? Meet Tea Horse - an Indigenous owned and operated tea company. Founded by Denise Atkinson and Marc H. Bohémier, this Thunder Bay, Ontario business seeks not only to share their love of tea, but to create a safe gathering space for community to come together. Tea Horse recognizes the restorative and medicinal properties the plants offer us, and work carefully with farmers and small producers to ensure they are bringing you 100% organic, high quality, fresh, and fair trade teas and herbal blends. The Tea Horse team has been working hard to ensure they direct-sourcing as many teas and herbal blends as possible from Indigenous peoples globally.

(image source)
Not so wild about tea? Why not check out Tea Horse's wild rice instead! Tea Horse also sells traditionally harvested wild rice from Northwestern Ontario which is direct-sourced from Indigenous harvesters. Preserving food sovereignty and the eco-system while consuming delicious, flavorful, and nutritious high-quality food? We love to see it.
Hot tip: Tea Horse currently offers free shipping on orders of $75.00 or more!
connect with Tea Horse Ltd.
website | facebook | instagram
 --
Follow us on Instagram 
Matriarch.Movement
Join our newsletter to receive email notifications for future blog posts. Don't forget to listen and subscribe to our Matriarch Movement
podcast
, with new episodes released weekly.